Meet some of my male clients and see what they had to say…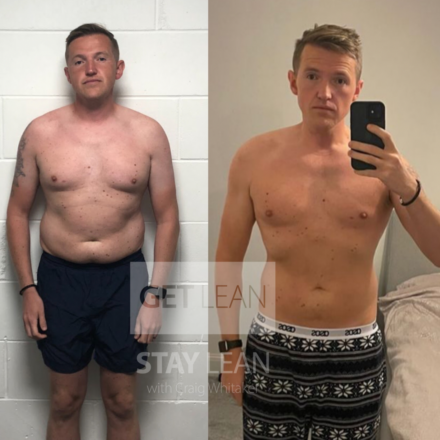 I finally find myself in a place of contentment...
"Craig helped me unlock my potential, after years of on-off dieting and various gym memberships Craig finally made me accountable for my actions. Sticking to simple logic, no complex diet, nothing totally off limits, Craig made it easy for me to improve both physically and mentally by making small tweaks to my lifestyle. Having lost 10kg overall I finally find myself in a place of contentment with a clear idea of how to maintain a lifestyle that suits me."
– Chris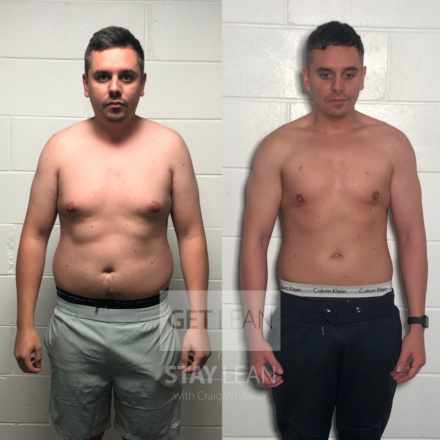 ..if only you knew how much you have helped change my life.
"So 20 weeks ago I decided to make a change, I hated how I looked and how I felt everyday, I spoke to Craig and explained to him my goal of what I wanted and he had no doubts that I could achieve them, fast forward 20 weeks, a pandemic and 3 lockdowns later I have lost over 35lbs and gained much more happiness in my self. If anyone thinks "nah i'll never be able to do it", please stop, it's not true, trust me! I just want to say thank you, if only you knew how much you have helped change my life."
– David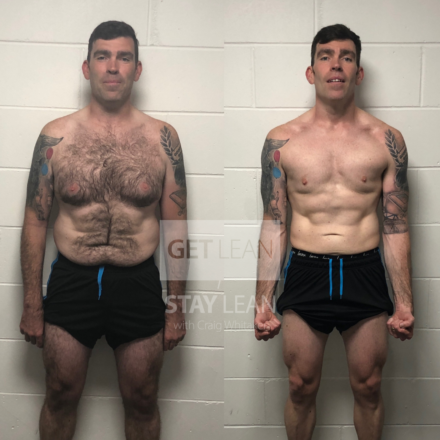 I'm in the best shape I've ever been in..
"I'd started a strict diet the week previous to get a head start, but when I received the meal plan from Craig, I was pleasantly surprised at what, and how much I could eat! Craig offered various alternatives if there were foods that I couldn't eat, and meals can be altered if you are hungry/full at different times of day.
Everything is structured around you, and taken care of. All you have to do is commit, and follow through the instructions. I'm in the best shape I've ever been in, weighing 177lbs and at 14% body fat. My only regret, is that I didn't do it sooner.
– James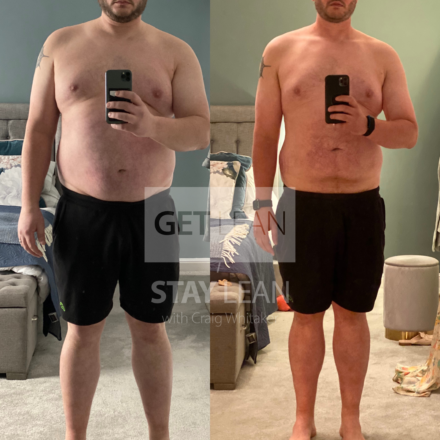 Never thought it would go as well as this...
"After seeing what a friend had done with Craig's help I decided to get in contact & give it a go. I had been bouncing up & down with my weight for several years & could always lose a bit but then ended up putting more back on after I stopped the diet. I got in contact with Craig & he was great from the start, he asked good questions about why I wanted to make a change & what I was looking to achieve, he always came across as really interested in the motivations behind what I wanted to do. We started slowly introducing some recipes & started to track what I was eating, then gradually over the first few weeks we got into a really good routine & the weight started coming off. From the very start it was always at my pace, Craig would push back at times & question but always using the motivations we talked about at the start as the base for that. It's been a surprising journey & I never thought it would go as well as this in 16 weeks but we kept things very consistent & Craig was always there to answer any questions I had, he would lay out the facts & show the impact of a choice but it was always my choice. I now have good habits & a real eye on what & how I am eating, I didn't need to give anything up, we just built it in. I can't thank Craig enough for the support & time during the 16 weeks."
– James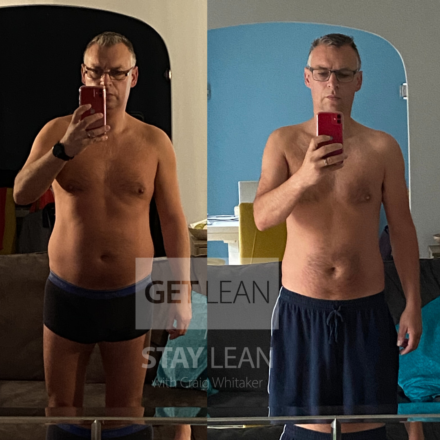 I decided "enough is enough"...
I decided "enough is enough" & I needed to lose some weight & feel better about myself. Craig came highly recommend to me, not one for the gym & like my drink, I needed to find a way to lose weight but still enjoy my life. Straight away after speaking to Craig he pointed out "Where's your protein?" I'd never noticed. I was thinking "cut carbs, cut carbs & I will be ok", but I was always hungry. I told him I want to go from 14 to 13 stone. But now 16 weeks, still having a drink, I'm now 12 stone & 7.5 inches off my hips & waist & feeling so much better. He is so good at guiding you in the right way without pressure. Finally I would like to say Thank you Craig & I would highly recommend him.
– Darren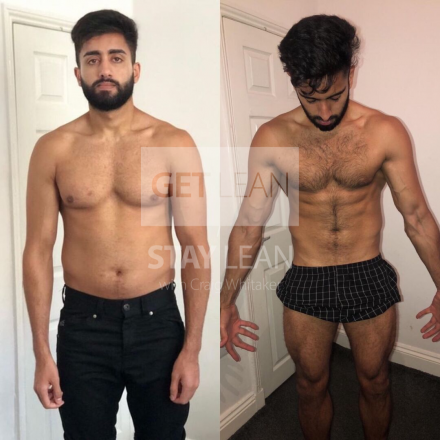 I owe everything to Craig...
"Picking up an injury puts you in a dark place. No fitness, no exercise and diet goes out of the window. Being a young lad I thought I knew it all but every time I tried getting back into the gym I was on and off. With Craig I learnt you can balance your diet and enjoy what you're eating and still lose weight! I owe everything to Craig for getting me back to trying my hardest to get back into shape and to a routine which suited my lifestyle. He helped me daily with constant contact and updates which made it an excellent experience. Once again, Thank You Craig."
– Sami
I lost 2 Stone...
"Roll back to early September and my weight had increased significantly, with a seriously negative impact on my regular charity events. My decision to sign up for the 2020 Kalmar Ironman was filled with regret and for the first time ever, my strong mentality and confidence had taken a huge hit.
I got in touch with Craig who discussed the 12 week plan and my life changing journey began. Straight away I noticed my energy levels were increasing again, through the tasty and healthy food options & incorporating weights into my fitness routines for the first time ever.
Craigs' professionalism and support throughout the process has been life changing and installed a new confidence inside me moving forward. Everyday I feel fitter, stronger, more energetic and most importantly very happy both physically and mentally. One amazing thing about the incredible plan provided by Craig is these results showing a total weight loss of 2 stones, have been achieved whilst maintaining my busy weekend social activities and still enjoying several beers along the way. Not once has it felt like a "diet" and it's been great fun throughout the whole process.
Anyone wanting to change their mindset for life with regards to your training and diet, please get in contact with Craig and start your life changing journey as well."
– Andrew
Cannot recommend enough...
My work life balance had struggled over the last few years meaning that my general health had also taken a beating & I needed some guidance & support to get me back on track!
I'd put on nearly 3 stone due to always being sat in the car & generally eating at the motorway services. Long hours meant my exercise was non-existent & I'd tried all obvious routes such as Weight Watchers & even some of the MLM schemes looking for a quick fix only to be in a worse situation!
However, I needed drastic change & after a consultation with Craig it was clear he had amazing knowledge and he was a guy I knew I could work with.
Craig is genuine, knowledgeable, likeable & incredibly supportive. We set about putting in place changes & creating real focus around my diet, & the rest is history.
I lost 2.5 stone within 3 months in a healthy way around my lifestyle & have benefited in so many other areas such as increased confidence, improved energy etc. I honestly can not recommend Craig enough, the guidance & support continues today & I'm pleased to see him go from strength to strength, thanks Craig.
– Alex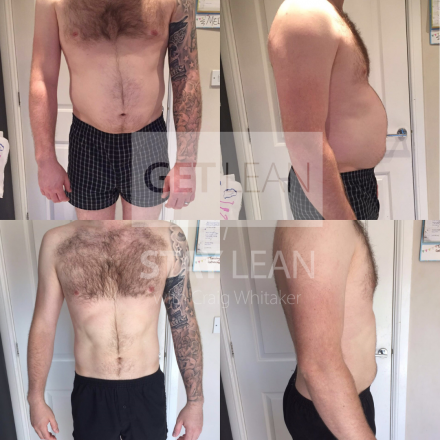 I feel much better in clothes...
"After deciding I was fed up with being a fat retired racer with a daddy belly, I got in contact with Craig. Dieting has never been so easy with simple and easy steps to watching what you eat and meal plans to enjoy all sorted out for you. Craig is always on hand for support and guidance and I'm happy to say, with his plan I managed to lose 18lb and 12cm off my waist and never felt better. Happy to be this weight now, feel so much better about myself. The best feeling I've had is how much better I feel in clothes. I've tried so many things in the past and this has been so easy. Thank you buddy!"
– Jamie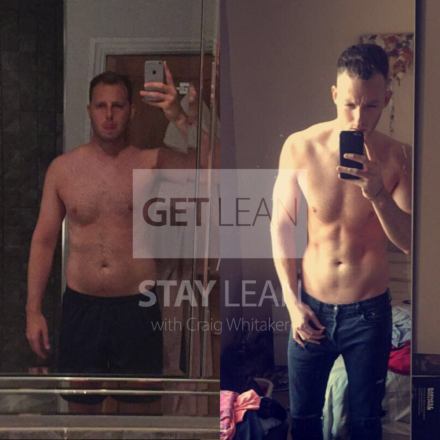 Craig gave me balance...
Can't thank Craig enough for his knowledge and guidance on both nutrition and training. He's managed to give me the one thing no 'diet' or extreme fad can – and that's balance, something i thought i'd never get. That's the difference in getting lean and staying lean. Thank you.
– Ed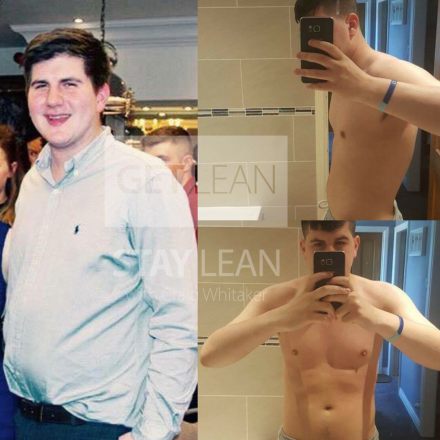 Really enjoyed seeing the results...
"I'd piled on the weight and decided it was time to change. I'd seen a lot of people on meal replacements and I knew that wasn't for me. I'd seen Craig's results and ethos, so I got in touch. He set me up with a very flexible diet plan and I got going. With his guidance and expert knowledge I've not only changed my weight, but changed my lifestyle as well. I haven't slept right for the past 2 years but genuinely my sleeping is better too. Craig has extraordinary knowledge and his results do more talking than I ever could. Really enjoying seeing the results. Dieting isn't anywhere as hard as it's made out to be."
– Lyle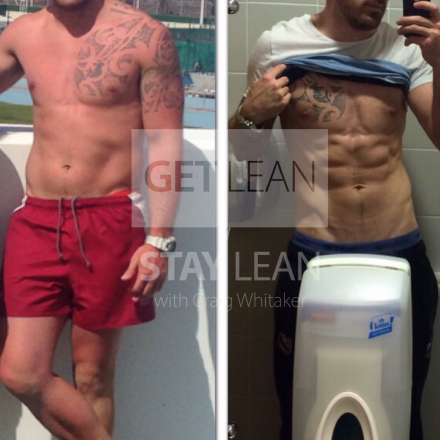 The meals were diverse & interesting...
"After coming back from a lads holiday I decided to give GLSL a go. The meals were diverse & interesting, the knowledge on how & when to eat was detailed but not overwhelming & I've never looked leaner… Fantastic flexible support, no fad-like diet tips, just real food & I got the results… I'd recommend GLSL to anyone who was looking to feel fresher, eat real food & burn some body fat!"
– James
Easy meal plan to follow...
"I was struggling to maintain a balanced diet, bored of eating the same old food and not getting anywhere. I spoke to Craig and explained my goals, what I was eating and what I wanted to achieve. He sent me an individualised plan with simple recipes that weren't focused on eating minuscule portions. The plan Craig sent made it easy to make meals out of loads of different ingredients and has helped me lose weight and reach my goals. The ingredients aren't ridiculously priced and weren't flavourless. Craig has definitely helped me get to where I want to be with my weight."
– Mark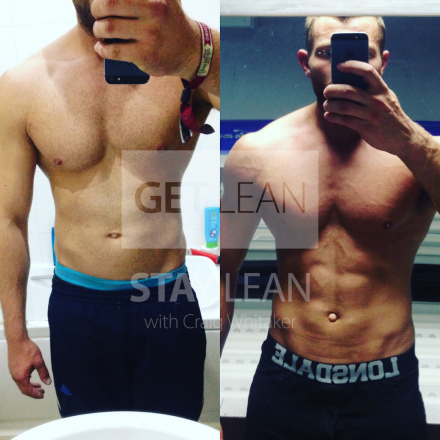 Craig has made a massive difference...
"I have been a solid gym go-er for a while now and I like to think I have a good understanding of health and fitness. When it comes to dieting though I lack discipline, motivation and inspiration. I came to Craig for help. Craig gave me all the info I could have asked for and more! With his guidance and motivation I have managed to clean up my diet. It has made a massive difference. I feel better all round as well as looking so much better too! He has always been there to answer my questions, and has catered to my likes and dislikes! Thanks Craig for all your help, Chris."
– Chris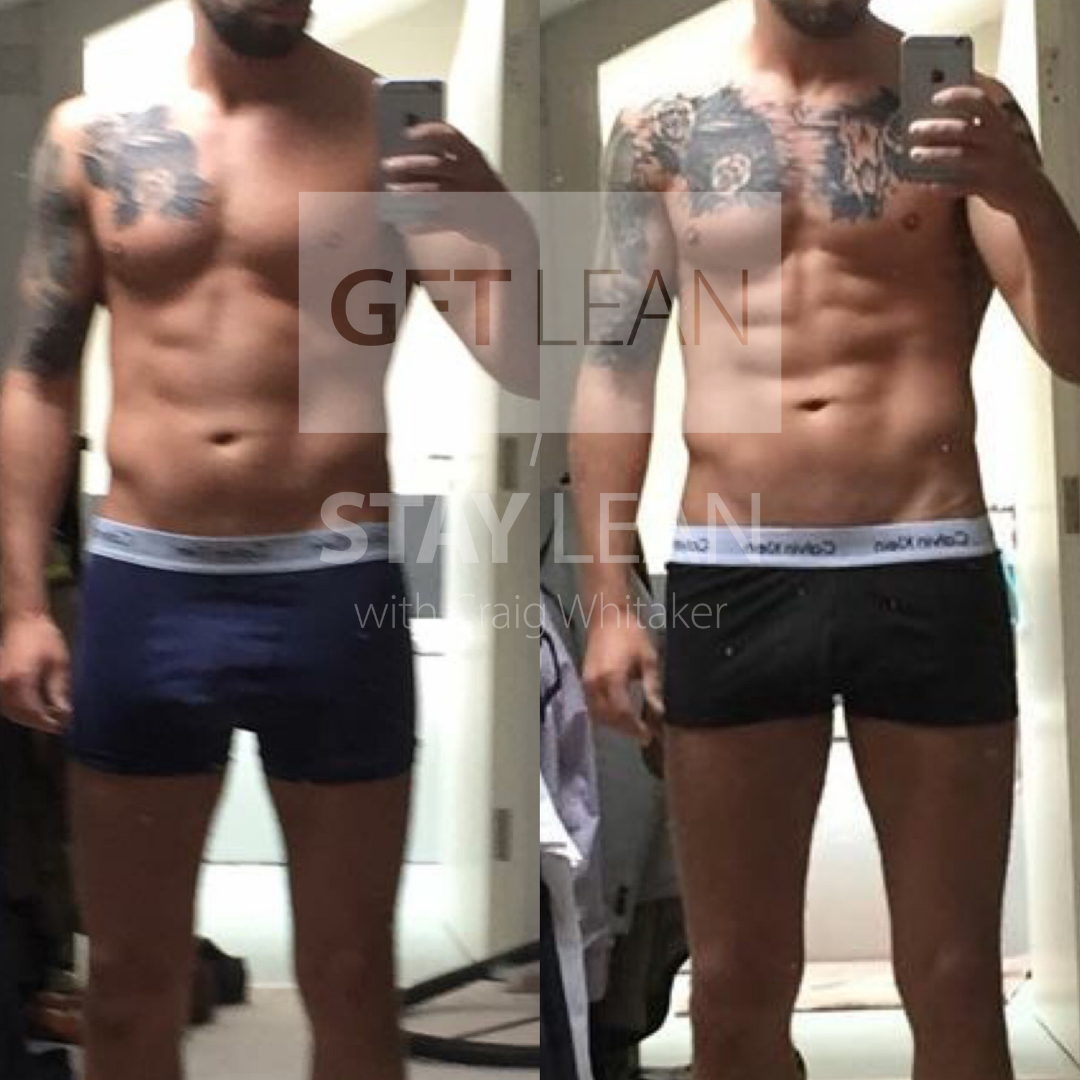 Fastest and best results...
"I've dieted for ten years and never really achieved the results I wanted despite thinking I knew what I should eat, Craig's plan gave me the fastest and best results I've had and is constantly on hand to support and advise!"
– Tom
Thank you Craig...
"I was getting nowhere. The odd run, a trip to the gym now and then, staying off alcohol. The most I could manage was to lose a pound or 2. Even worse was the shape I was in and this was what was frustrating me the most. I dropped Craig a message just asking for the odd tip and what followed completely changed my outlook on food and the way it impacts on your body. Craig totally re-created my diet. I thought that drinking fruit juice and eating almost nothing but fruit would make the difference. Little did I know. After help from Craig I went from being on the uncomfortable side of a 36 inch waist to being on the comfortable side of a 34 inch waist within a few weeks. I'm eating healthier now than ever and completely loving my food. I look forward to every meal because I know the good it is doing me. A year on and my clothes fit and I'm not ashamed to doff my t'shirt when I'm on holiday. Thank you Craig."
– Harry
Does exactly what it says on the tin!...
"My social life had taken over, too many parties, holidays and consuming alcohol at weekends along with eating out too often had taken its toll. I wanted to get myself in better shape, not just for my holiday but also to stay that way. Craig's plan helped me stick to a bit of a routine but also the flexibility to eat lots of different foods also. After years of going up and down i'll be staying lean now. Does exactly what it says on the tin!"
– Tom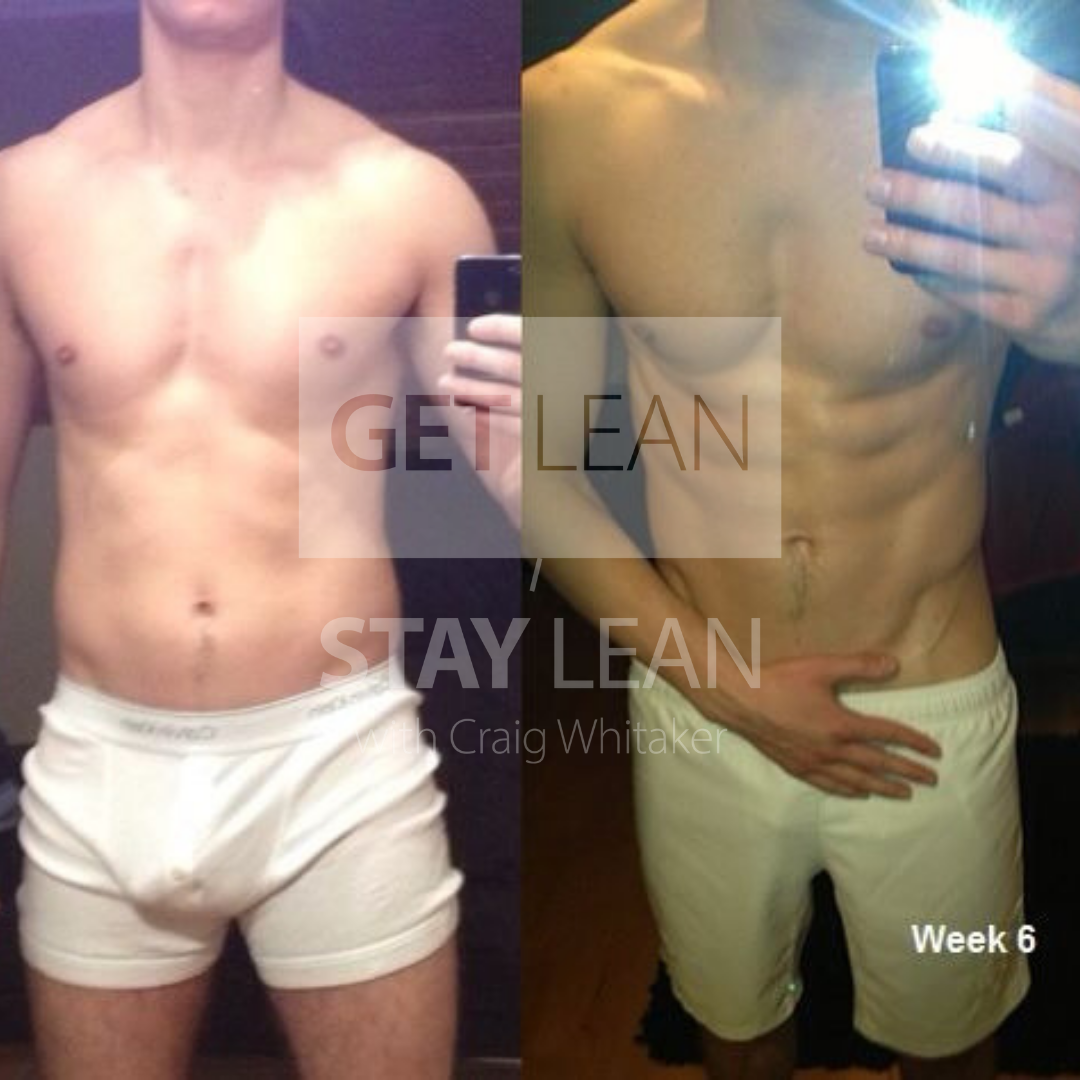 I made really good progress...
"I'd not been playing football through injury and had been busy with work so I was picking foods on convenience. I had noticed my body change and wanted to get back in to shape before my holiday. I spoke to Craig who gave me a list of foods to use in my meals and taught me to time certain foods around training. I starting jogging again and made sure I kept to the food plan most of the time. I made really good progress and felt better for it."
– Simon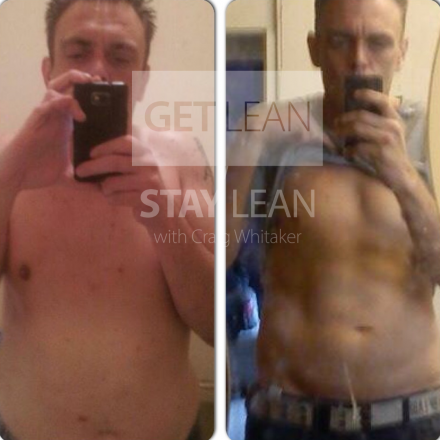 Amazing service...
"I weighed almost 20 stone, thanks to you and all your advice I'm down to 12 stone, I feel amazing, can run longer and faster than before, I have less muscle pain and no longer in danger of becoming Diabetic. One thing I never thought would happen, I actually enjoy drinking lots of water, it makes me feel fresh. I'm eating better than I have in 33 years on this earth so a huge thank you to you. I now want to get back in to football and take up boxing to help control my mental health even more. I'm now un-medicated for the first time since 2006 and stable, amazing service."
– Aaron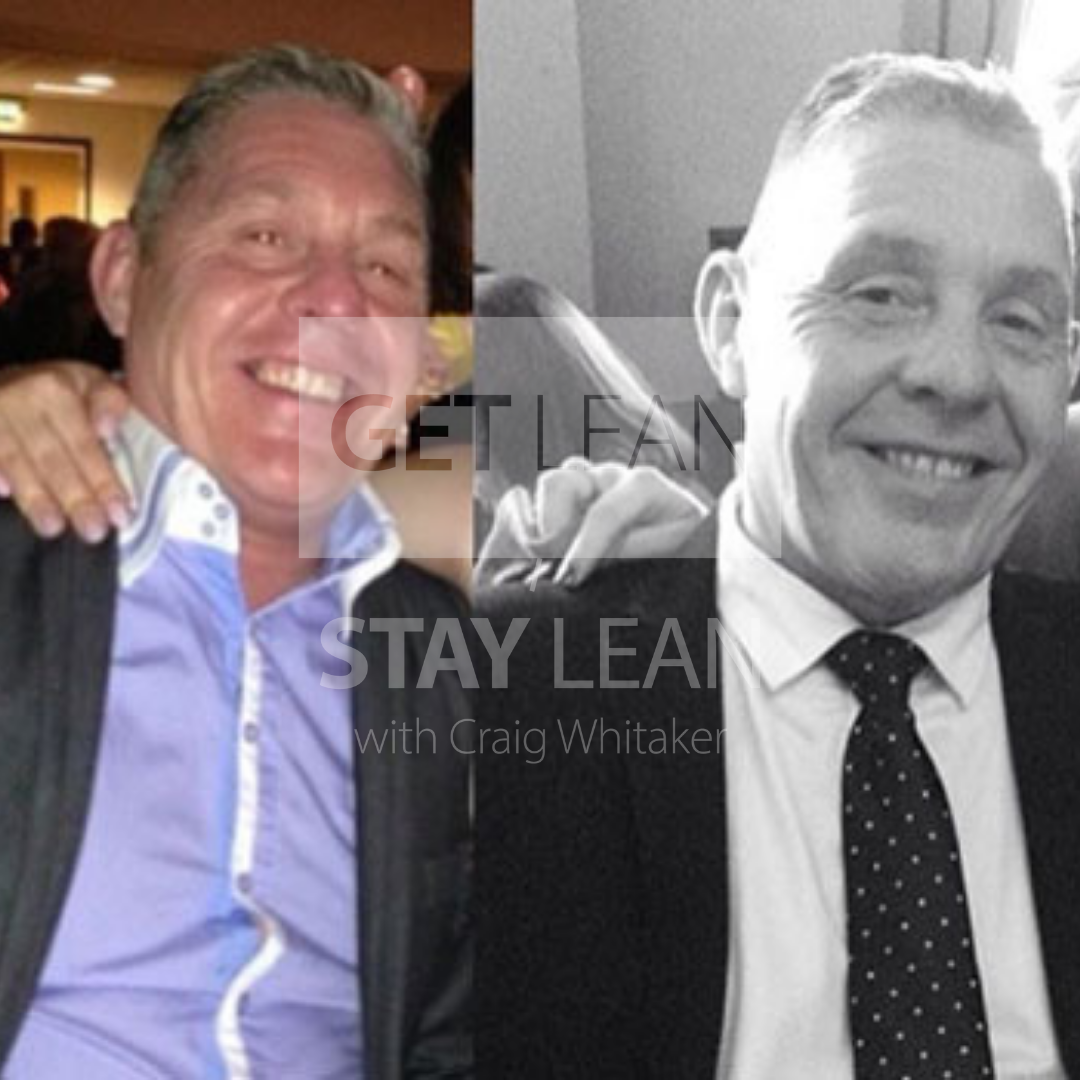 I now feel better...
"I had absolutely no idea about nutrition and how the food types affect your body. I couldn't work out how I'd gained the weight until Craig showed me where I was going wrong. Some foods that I avoided thinking they were bad aren't and are now part of my diet. I'd been told by the doctor my cholesterol was high which gave me more motivation to keep the weight off. I now feel better and I'm able to manage it by myself."
– Barry